Saturday, September 27, 2008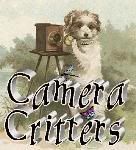 Hi guys! This is my first entry for camera-critters and I hope this entry would suffice. I've been meaning to join this meme for a few weeks now but I still need more animal photos.
Hope you guys enjoy this photo. We where at the
Japanese Gardens
in Van Nuys when I saw this orange butterfly flit from flower to flower feeding on nectar.
Like this article? Add me