Saturday, October 4, 2008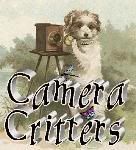 Good Morning Camera-Critters! These are the recent
critter
shots that
I took when we went to the
Lake Shrine
[more photos] in Pacific Palisades, California.
Turtle

Swan

I will be leaving in a few minutes for
Balboa Park Lake Balboa
[I didn't know there was a Balboa Park in San Diego and a Lake Balboa in L.A. and both are different parks!] for my photography class and I hope that I'll snag a few shots! It's overcast today and the weatherman said there will be rain but I am crossing my fingers.
Like this article? Add me